I stumbled upon an art show at the Jack Hanley on 15th and Valencia while on my way to Thrasher's Skater of the Year Awards. There was supposed to be free bar at ye ol' Great American Music Hall while some dude get annointed by the golden skateboard saber and then bands would rock out and the thrash would commence. It was more mellow than that. Booze was la8ers and the leeches were exiting to exploit something else. The bands played to a pacified crowd with blunted eyes. Oh my god am I drinking Hateraid? I know there are diamonds in the rough, I am just sick of the sludge.
Anyhow, the art show beforehand absolutely got my eyes to sparkle.
It was a group show of posters questioning "What Happened To Peace?"
There were some political poster kingpins like Emek, Mear 1, and Shepard Fairey, as well as enraged designs by artists from around the world. This event was celebrating the release of Yopeace.org's release of their book
YO! WHAT HAPPENED TO PEACE?
The bright colors in the flock of posters created a visual disturbance, many a poster designed to be screaming. I saw a many new takes on our depressing past and dismal future. A comical print boasted our modern day world leaders in the "evil" category sharing bongs on a couch and Osama Bin Laden casually eating chips out of a bag with his missing face printed on it. Or you have the stark oil drilling silouettes, the delicate beauty of an enlightened soul nurturing nature, and the sheer ugliness of mindlessness. Check out the prodigous list of artist who are involved in this project at
YOPEACE.ORG
Talked to a nice fellow,
Yem
, who came up from L.A. for the show. He was full of smiles and positive affirmations. He has been around LA like a wall virus. We talked about how important it is to support your fellow artists, because the economy you are in will immediatley swell. The significance of a healthy community is imperative in our wan world state of affairs. He has a music project under the name Abraham Jones.
About Yo!Peace:
Yo! What Happened to Peace? was started in 2003 with 14 prints and an opening hosted by Cross World Connections in Tokyo as a response to the wars in Afghanistan and Iraq. Committed to highlighting the beauty of hand-crafted printmaking techniques as a method of visual protest, the show has traveled the globe continuously adding new artists and artwork. In the spring of 2007, a Yo! What Happened to Peace? book was published, featuring 144 color pages of over 200 prints from the show, a die-cut stencil cover and an introduction by Winston Smith. Currently based in Los Angeles, the show is put together by John Carr (curator), Katherine Kirby (coordinator), Ra (operations), and Caton Volk (producer).
During the opening, a few fellas were doing a live silkscreening. Spoke to Ra for a minute about the tour. They are going around, prying the hole in our consiousness just a little wider. The book has a stencil cover for immediate use. These fellas went out of their way to inspire immediate action and creativity. The amalgamation of the iconic artistist of our turmoil times is far reaching. International viewpoints on our sticky little situation. The urgency in the messages was a rewarding outlet for internal stife and sadness at injustices. Express yo'self hay hey hey hey. They are so officially members of RAD AMERICA.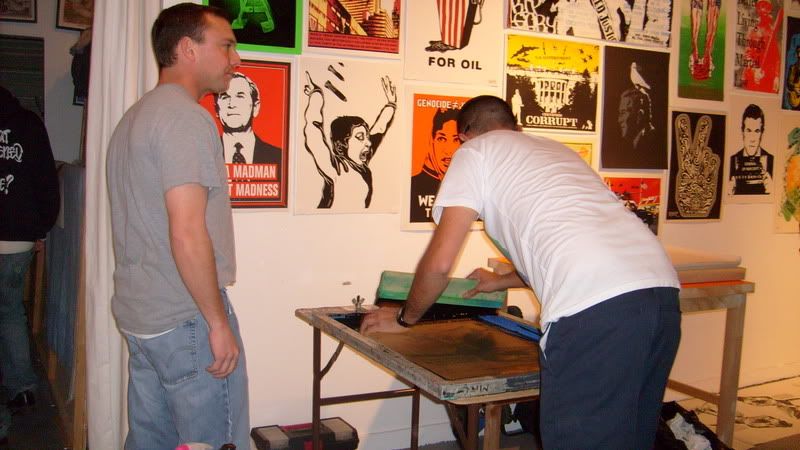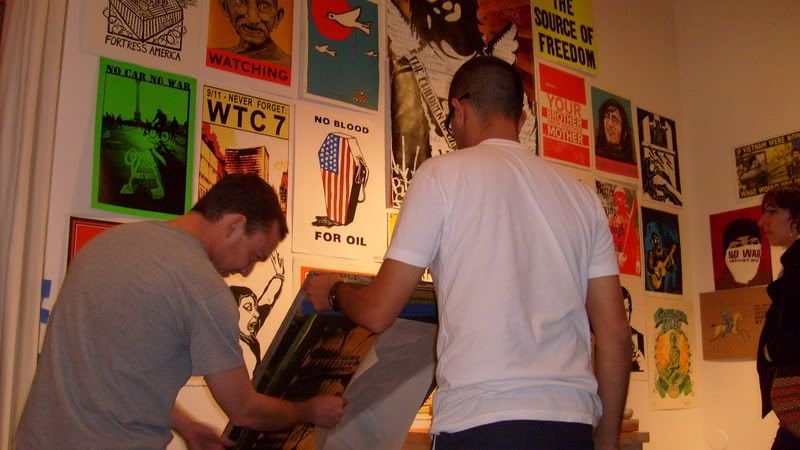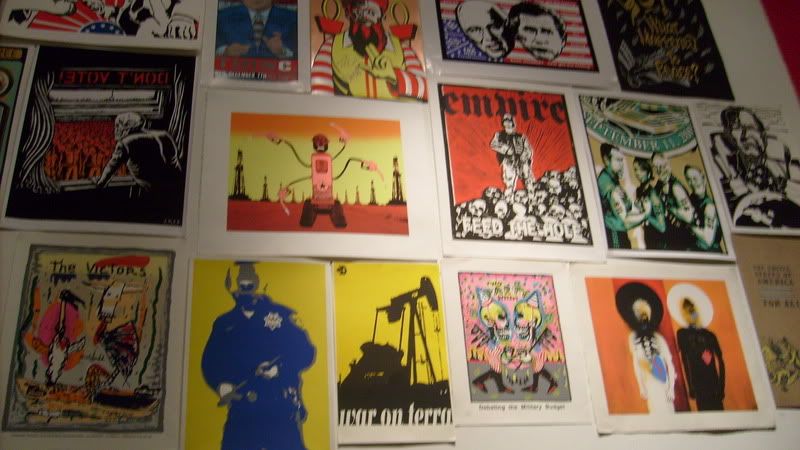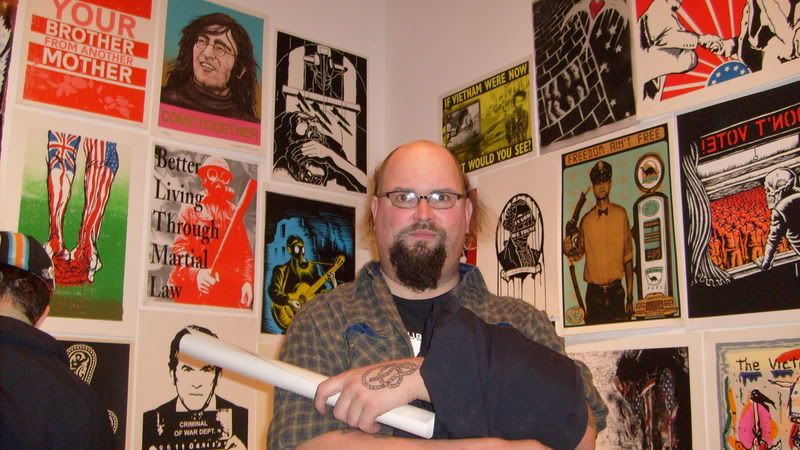 I ran into Big Daddy of
Cyclecide
and he informed me that there will be a movie screening featuring our fine freaky friends next weekend, January 26th in Alameda. There will be a shuttle bus for each of the two showings. The bus will leave from Ritual Coffee in SF, stop by another spot in the East Bay, and go to the Alameda viewing spot. Adventure City!
Head Trip
A documentary film by John Law and Flecher Fleudujon
Showing at
The Roxie New College Film Center
3117 16th Street, San Francisco, CA
Part of the
Pranks Filmfestival
.