A History of The Modern Bicycle Dance Team
The first inklings of bicycle dancing can be traced back to the dawn of the invention. The dance of mastering the steel beast, the shuffle of the rough terrain and the climb up to the top of a Lamplighter bike. There are many forms of expression on a bike, but for the sake of brevity, we will only discuss the modern history of street style from 1996 forward. This is when the 20" wheel dancing and team innovations really started to gain momentum.
In the year 1996,
T
he San Francisco Bicycle Ballet
united in an effort for a top-viewed Busby Berkeley-esque patterned performance on bicycles. Their show involved many cyclists, riding in formations that fold into each other and back out like a
kaleidoscope
. Their founder, Carla Laser, throws a near yearly show. She has some dancers return, and some new recruits each year.
*1
Fast forward to the year 2003, in the green folds of Portland, Oregon's west hills, where a sect of female cyclists were hanging out in the woods above the city. On a group ride called
Zoobomb
*2
,
t
hey looked around and realized they were fed up with the male-dominated bike scene. They needed something to bind them together, so they decided to make the
Gravity Girls
calendar
*3
. They took naughty pictures in elevators, re-enacted whiskey fueled bike crashes, and posed topless with a tied up Santa in North Portland Bikeworks. This camaraderie brought a new power dynamic to the west hills, and a female kinship was formed. At the end of winter, planning started for a two week bike event called
Pedalpalooza
*4
. Agent Chaos was a Gravity Girl and she offered to organize a "bicycle ballet" for a fun event at the upcoming
Multnomah County Bike Fair
. She was unaware of the SFBB at the time, and Agent Shine, a school teacher and practitioner of capoeria offered to team with her after the meeting. At home, Chaos tells roommate Agent Trouble of the plan and they cackle about a team dancing like synchronized swimming meets fly girls from "In Living Color" meets 7th grade cheerleaders. The name
The Sprockettes
*5
seemed to be a great expression; a mixture of the Broadway Rockettes and the sprocket cog. It was time to get to work, and most Sprockettes knew nothing of dance. With the help of instructional videos on working out, belly dancing, and stripping, they met up each week to learn some slow motion moves in front of the TV.
For their first performance, The Sprockettes were the half time girls at The Multnomah County Bike Fair, jumping on the chalky fairway for a hot pink and black number in between slow races, bicycle eating contests, and the ever popular jousting. The fair goers responded with delight and asked when The Sprockettes would be performing again. They hadn't had any notion of going beyond that one performance, so this new idea thrilled them. This opened up pipe dreams like performing in other countries and having the five year goal of an International Bike Dance-Off. They booked shows for street fairs, benefits, house parties, and a mutant bike event called The Chunkathalon.
This new idea really surprised Portland dwellers, and the hot pink dancers soon inspired more and more bicycle fun. There was a one time performance by their male friends, each choosing a solid color and calling themselves
The Different Spokes
. Their show was for the
North American Cycle Courier Championships
(NACCC) and the highlights include synchronized moshing, all levels of bicycle, rear ends spray painted to spell out Different Spokes, and a puker on the dancefloor. They filled big blingin' chalices with glitter and shook their dreads to 'Lil John. That was the first and last of them. Some members have gone on to help with a new male dance team in Portland to be discussed later.
In September of 2005 The Sprockettes attended the Margaret Charles Chopper Collective's
*6
(or MC3) bike event, V
elomutations
*7
. The audience's eyes couldn't get bigger. The sweet hearts of Canada were extremely psyched and wanted to join. The Sprockettes encouraged the Canadians to form their own incarnation, and that next week
The B.C.Clettes
*8
were on their way to forming. They chose red and black as their power colors. They circled around the Vancouver bike scene with their burlesque wheel dances and bike tool acapella number. In no time, the contagious nature of pure bike fun reached their male friends and they found a choreographer and coach and began practicing. In 2006,
The Brakes
*9
,
without knowing of the Different Spokes, chose to adopt a single color for each individual. Green, Red, Yellow, Blue, Orange and Black. They rock hip hop moves and make the ladies wild with their bike strip tease.
This exploratory undercurrent reached across the Vancouver bay to Victoria during a pollinating bike event. There a group formed called
The Velo Vixens
*10
, expanding the burlesque hotness of the BCClettes into a sideshow with acts, belly dance, fire, and surprises. These ladies chose denim and fishnet as their colors, and began to pull the boundaries of bike dance out in a new direction.
In November of 2006, The Sprockettes rounded up all of the known cycledancers for
The Sprockettes Invitational Weekend
*11
, an international expose' on the evolution of the modern street bicycle dance. This event blew the whistle on the possibility of fun between your legs, and over 600 people attended the performances.
By the end of August 2007, a most surprising myspace search concluded that over the Atlantic Ocean there was a bikedance team in Machester, England, called
The Spokes
*12
.
They recieved the underground broadcast and began action, choosing green and black as their team colors. They have since performed at the
London Bicycle Film Festival
and other bike events like critical mass.
2007-2008 was a year of exponential dissemination as branches of modern cycle dancing popped up along the west coast and spotted in the eastern lands. For
MiniBikeWinter
*13
,
Chain Reaction
*14
,
a long awaited Portland male dance team rocked tricky maneuvers and matching black t-shirts. Also in Bellingham, WA, Agent Vortex moves in and organizes a performance as an addition to a circus. News is heard from Seattle that purple and black is now in the color register with a team called the
Bicycle Belles
*15
. Richmond, Ohio has a young lady organize a dance for her college project. March 2008 in Oakland, Agent Chaos and Agent Verve spring into action with new plans for
The Derailleurs
*16
, bay area bike dance team. Agent Chaos' experience and Agent Verve's degree in dance, they find a flock of fabulous females and spend the next three months choregraphing song with original music by local artists. Agent Chaos finds the challenge enlightening and trying, because of lucky exposure to the rest of bikedance history.
June 28th, 2008, exactly five years after the inception, The Sprockettes hosted a Bike Bash afterparty for the Multnomah Caounty Bike Fair. This was the international bikedance-off pipe dreamed five years ago and that came to fruition. Teams from Canada, Bellingham, Portland, San Francisco, and Seattle were west-side-storying in a warehouse by the river. Where will the next leg of bicycle fun take it's adventurous riders?
************UPDATE:
GACHARINCO just added to the Bikedance Roster!
Japan's first street style bicycle-inspired dance team performed October, 2009, in Nagoya.
***********UPDATE: MORE TEAMS!!!
more to come, but check it out:
Heelz on Wheelz
from NYC
Greasy Gears
from Madison Wisconsin
Les Velobici
from Bristol England
The Racketeers
from Chicago Illinois
SF Bike Ballet
The Sprockettes
Multnomah County Bike Fair 2007
B.C.Clettes
The Brakes
Velo Vixens
The Spokes
Chain Reaction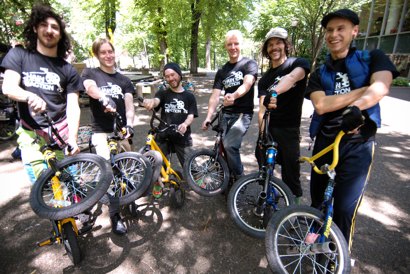 Photo: J. Maus
Bicycle Belles
Bottom Brackettes
The Derailleurs
Vertical Momentum
Gacharinco
Heelz on Wheelz:
Greasy Gears:

Les Velobici:
The Racketeers: